Takashi Amano Photo Exhibition, The world of eyesight 6.0
"The Unknown Scenery of Niigata"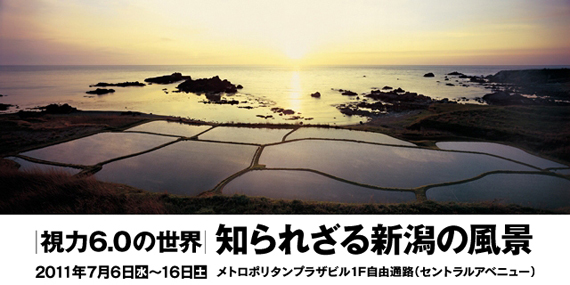 There are many beautiful sceneries in Niigata besides famous scenic areas as it has various landscapes from mountains, plains, to seashores.
Takashi Amano is a photographer capturing such unknown sceneries of Niigata by 8x20 films with extra-large format camera. In this exhibition, carefully selected 10 works from his large collections are displayed in 4x15m extra-large panels. Please see the beautiful nature of Niigata in all four seasons.
Photo: "Rice field beside seashore" Globally Important Agricultural Heritage Nanaura beach, Takase, Sado, Niigata
In Sado island, rice is grown not only in the plains but also in the mountain areas and along seashores. In such areas, in order to use the limited land space most effectively, rice fields are in a terraced style, and lands almost to the beach are developed for growing rice. The setting sun over the Japan sea lights the rice fields at seashore beautifully. Rice grown in a beautiful environment is specially dainty.
Takashi Amano Photo Exhibition, The world of eyesight 6.0 "The Unknown Scenery of Niigata"
Date: July 6 - 16, 2011
Time: 10am - 7pm Admission Free
*opened at 11am on the first day
*closed at 6pm on the last day
Place: Metropolitan Plaza Building 1st floor (Ikebukuro, Tokyo) "Map"
Direct access to JR Ikebukuro station (Yamanote line, Saikyo line, Syonan Shinjyuku line)
Direct access to Ikebukuro station of Tobu Tojo line, Seibu Ikebukuro line, and Tokyo Metro line

Host: Niigata Prefectural Tourist Association
Co-host: JR East Niigata Branch
"The view of Nature photographer, Takashi Amano"
Takashi Amano's ecological landscape photographs captured by 8x20 extra-large format films are often called as "the wold of eyesight 6.0" due to its precise description. As his works have gained global recognition, they were presented to the world leaders at Hokkaido Toyako summit, and his exhibitions have held abroad including Italy and Qatar.
Special Web contents: The world of eyesight 6.0 (in Japanese)