Upcoming Photo exhibition of Takashi Amano at Fujifilm Photo Salon in Tokyo
Photo Exhibition of Takashi Amano "Primitive Cedar Tree of Sado"
Takashi Amano's Photo exhibition, - "Primitive Cedar Tree of Sado" will run from March 27 to April 2, 2009 at Fujifilm Photo Salon inside Tokyo Midtown. Open hours are 10am to 7pm daily (only last day will close at 2pm), and it is admission free. Welcome your visit to the exhibition of landscape photographs capturing primitive nature precisely with special extra-large film cameras.
Message from Takashi Amano: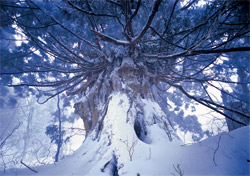 In massive seasonal wind and snow, the spiritual image of the giant tree, skews and spreads its arms on the ground and bows its branches to the full extent is almost like incarnations of nature itself. The Cedar tree of Sado has been keeping the primitive nature as it is and graving the history of natural changes to its own body. The island floating on the Japan Sea is perhaps the only place in the world has a number of such deformed trees. The exhibition features a touch of quiet forest with the memories of thousands of living creatures created through surviving the severe environment obscurely, captured with extra-large film cameras in minute details. In fact, this is a work of ecological landscape photograph.
Event Information
Location:
Fujifilm Photo Salon (inside Tokyo Midtown)
9-7-3 Akasaka, Minato-ku, Fujifilm Square 2nd floor, Tokyo (MAP)
Tel: +81-(0)3-6271-3351
Access:
Directly linked to Roppongi Station on the Oedo Line by exit 8
4 minutes walk from Roppongi Station on the Hibiya Line (Exit 4a)
5 minutes walk from Nogizaka Station on the Chiyoda Line (Exit 3)
Date and Hours:
March 27 – April 2, 2009
10am – 7pm daily (close at 2pm on the last day),
Admission free
Please also see Fujifilm HP for event information:
http://fujifilmsquare.jp/en/guide/salon.html