Glass no Naka no Daishizen, French version now available!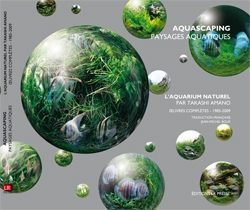 Takashi Amano's collection of Nature Aquarium layouts, Glass no Naka no Daishizen is available in French version.
This showcases a total of 185 works by Takashi Amano from 1985 to 2009. It includes many unreleased new works and his essays about nature and environment. It is highly recommended for Nature Aquarium hobbyists and nature lovers.
> Online shop (managed by LR PRESSE)
---
French Version:
Title: L'AQUARIUM NATUREL PAR TAKASHI AMANO Ceuvres Compretes - 1985 - 2009
Publisher: LR PRESSE
Price: 39.90EURO
ISBN: 978-29036514-0
*English, German, Traditional Chinese and Japanese versions are also available.
English Version:
Publisher: TFH Publications, Inc.
ISBN: 978-0-7938-0649-2
German Version:
Publisher: Dahne Verlag
ISBN: 978-3-935175-66-1
Traditional Chinese Version:
Publisher: Aquapets Magazine
ISBN: 978-986-83425-8-3
Japanese Version:
Publisher: Sekaibunkasha
ISBN: 978-4-418-09238-3