Exhibition of Takashi Amano in Rome, Italy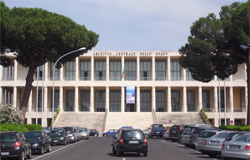 Photo Exhibition of Takashi Amano, "Acqua Spettacolo e Risorsa dall' Amazzonia all'Isola di Sado" (Water –its spectacular view and resource) has been held in Rome, Italy from June 4th to 21st.
The exhibition takes place at the Central library of Italy, Archivio Centrale Dello Stato where all of the official documents issued by Italian public administration including the original copy of national constitution of Italy are stored. The stately main entrance of the building has steles in line, and as you enter the building, you will find the open exhibition space with high-ceiling.
Precise description and magnificent scale overwhelmed the audience
The exhibition features the "World of Takashi Amano," presenting and introducing his world through works of Amazon and Sado island which have been exhibited in Japan. 6 pieces of extra large panels enlarged to the size 1.5m (L) x 4m (W), which captured the sea shore of Sado island are displayed at the entrance hall. People visited the exhibition seemed to be impressed and almost overwhelmed by the precise description and magnificent scale even before going into the further exhibition.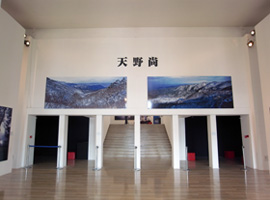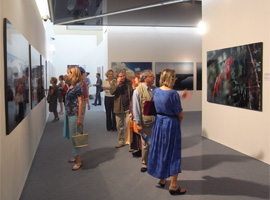 ---
72 pieces of photographs of Amazon and Sado island exhibited
From the entrance of the exhibition to the first hall, 43 pieces of the works of Sado island were displayed including the extra large panel ones. On the second floor, 29 pieces including the photographs of Amazon taken from the sky were displayed. Local audiences were amazed with the breathtaking natural landscapes of Amazon and Sado island which cannot be seen in Europe, and admired the minute detail of the natural landscape captured with large-format-cameras. The work of giant cedar tree, which was shown to the world leaders at the G8 Toyako summit, held in Hokkaido, Japan in 2008 gathered the most attention among all. Every audience visited the exhibition stood before the panel and viewed it carefully.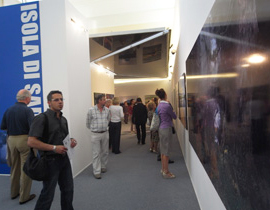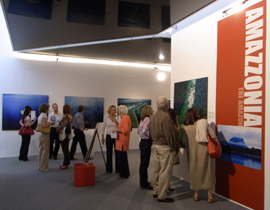 ---
Creating the opportunity to think about environment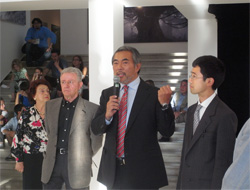 The opening of the exhibition, ofcourse with Takashi Amano's presence, was very successful with almost 250 visitors. At the opening speech, Amano talked about his passion and commitment for taking photographs of beautiful natural landscape, which has been destroyed day by day due to global warming and other reasons, as much as possible to capture its remaining image. And he hopes that visiting this exhibition and viewing his works will help thinking more about the environment. The exhibition was opened with great applause by the audiences showing their concurs.
Many local media like TV stations also visited to report about the exhibition. The exhibition was first planned to end on the 14th of June, but it was extended to the 21st due to popularity.
This exhibition was help with great support and cooperation of Japanese Embassy in Italy, Brazilian Embassy in Italy, Lazio region, City of Rome, and Japanese cultural institution (Istituto Giapponese Di Cultura).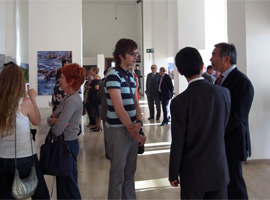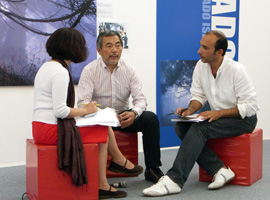 ---