Takashi Amano Photography exhibition in Doha, Qatar
(February 19-February 28)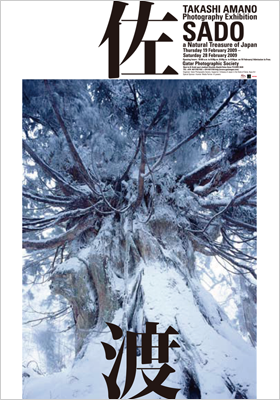 Doha-Qatar: Qatar Photography Society announces the first photography exhibition of a Japanese photographer, Takashi Amano, "SADO- a Natural Treasure of Japan". The exhibition on view February 19-28, 2009, presents works of the landscape photographs taken in a small island of SADO in Japan.
Since the society building reopened in 2008, with an expanded and enhanced facility, this exhibition will be one of the first exhibition the Society organizes. The exhibition includes a series of pictures, mainly consisted of 4x1.5m size panels, and Amano took most pictures by large format view cameras such as 8"x20" format. The main theme of pictures are the natural landscapes in Sado, and they cover seashores, mountain streams, the first green, flowers, ponds, autumn colors, trees in old growth forest and countless other aspects of rich nature existing there. The world's highest film description level of 8"x20" records not only a single piece of tree and grass vividly, but even the feel of the bark, and the moss and lichens on the tree. The 8"x20" film proves its merit even when enlarging the image, and it reproduces even the smallest details without blurring in the size of a 4x1.5m picture panel. The one can enjoy much clearer images of the nature than seeing by own naked eye. The amazing description level and the re-productivity of the nature were highly appraised, and two extra-large size picture panels of the Sado old growth forest was introduced to the world leaders at G8 Hokkaido Toyako Summit in July, 2008 as the nature representing Japan.
This exhibition is made possible by support from embassy of Japan in the state of Qatar, and Aqua Art, and special sponsorship of Aramex international Doha office.
VISITOR INFORMATION
Qatar Photography Society is open 10:00 am-8:00pm (February 19th 7:00pm-9:00pm). Admission is free. The Society is located next to Al Arabi Sport Stadium, Doha, Qatar.
Information: +974-4677793
http://www.qpsimages.com/
PUBLICITY IMAGES
Selected high-resolution images are available for publicity use.
E-mail: contact@amanotakashi.jp